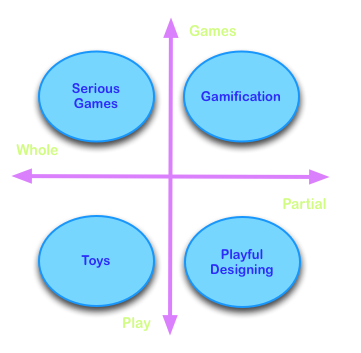 Credit: Diagram by Michelle A. Hoyle
Image: Deterding et al's (2011) situating of gamification as being partially game-like and being more gaming than playing.
Earlier this summer, I signed up for Coursera's new gamification course, presented by Kevin Werbach of the Wharton School at the University of Pennsylvania. In this brief reflection, I consider what makes gamification 'good' or 'bad' for me. I've included links back to the videos I'm referring to here, but you'll need to be registered with the course in order to view them.
If you know me, you're probably aware that I generally have a negative opinion of gamification, even though it can be easily and persuasively argued that my research examines how to gamify higher education. My negativity doesn't stem from the use of game elements or game design techniques in non-game contexts in theory. It arises from the actual implementation.
In every job that must be done, there is an element of fun. You find the fun, and – SNAP – the job's a game!
During Video 3.4: Tapping the Emotions, Werbach quotes early gamification adopter Mary Poppins, "In every job that must be done, there is an element of fun. You find the fun, and – SNAP – the job's a game!" I think he's right. Mary Poppins put her fictitious finger on the heart of the matter. If we're finding and promoting the existing fun elements in a given activity, then I'm OK with that. If we're adding fun where it didn't actually exist, then that's where I start to have problems.
Video 3.2: Think Like a Game Designer explains how thinking like a game designer means you have two purposes: get your players player and then keep them playing. It goes on to explain that keeping them playing is not tricking them but genuinely engaging them. Again, I agree with this in theory. However, I find the practice is very much at odds with many businesses' objectives and their subsequent implementation.
I have issues when the emotions arising from fun, examined in Video 3.4: Tapping the Emotions, are used to manipulate people in a way that primarily or wholly benefits the company without actually providing genuine engagement or without making the game about the player as is suggested in Video 3.2 as being a key element. The temptation to monetize things means those making the decisions think of the players as ways to make to money. That's what I usually think of when the term 'gamification' comes up and that's the kind of gamification that leaves a bad taste in my mouth. What about yours?
Questions
I'll post some examples of 'good' and 'bad' gamification in the comments later. In the meantime, I'm wondering what your thoughts are on the following questions:
Does the term 'gamification' leave a bad taste in your mouth too?
What are some examples of 'good' gamification in the Mary Poppins sense?
What are some examples of 'bad' gamification?
Can specific elements that make an example good or bad be articulated?
References
Deterding, S. et al. (2011). 'From Game Design Elements to Gamefulness: Defining "Gamification"'. In: 15th International Academic MindTrek Conference: Envisioning Future Media Environments, September 28 – 30, 2011. New York, USA. ACM Press. pp:9-16. doi:10.1145/2181037.2181040. [Accessed September 7, 2012].