Here's a picture of me (and 6 others) who were recently honoured with the first teaching awards ever available for associate lecturers at the Open University in the United Kingdom. In the picture, I'm wearing a black suit and a salmon-coloured top on the far right of the picture. A version of this picture just appeared in an article the May-June edition of Open House, the OU-wide newspaper for staff of the Open University.
In previous years, the awards were only open to support staff and full-time central academic staff which is reflected in the headline for the article of "AL's honoured at last." Alas, while I am mentioned by name in the article, they don't say very much about any of us. For example, about me. all they said is "Winnings [sic] ALs pictured are … TT280 and TT281 tutor Michelle Hoyle." Yep, that's it. We all had a few words in the article.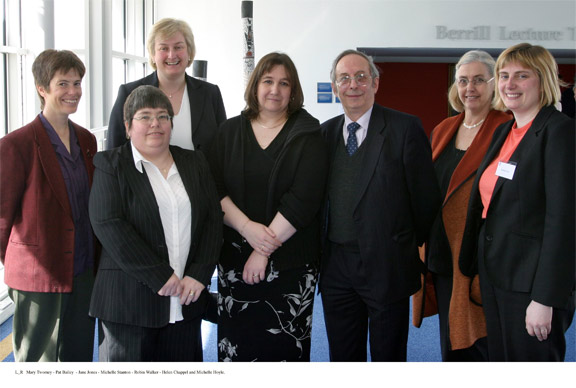 The cheque arrived in the most recent pay advice and I'm busy plotting what "personal" and "professional" self-development use I can put it to. I've started with a new pedometer and a new scale (waiting for the bank transfer to clear and that to be shipped still), and am trying to justify one of those new AirPort Express portable wireless stations with support for streaming to my stereo. I was also considering retroactively including the cost of my rather expensive Rosetta Stone language learning software for German; that's definitely personal development.
Oh, the agony of deciding!