My friend Howard Rheingold was asking on Twitter recently about how people use DEVONThink, a personal information manager for the Macintosh.  While Howard's relatively new to DEVONthink, I've been using DEVONthink Pro since 2005.
DEVONthink Pro includes all kinds of import and file-use features to help people put all their information in one place.  It can import or natively use PDFs, e-mail archives, Microsoft Office files, OPML (like from OmniOutliner, for example), iWork documents, log files for instant messenger clients or from SecondLife, BibTeX, XML, and address book.  The Pro edition can also interface with a scanner to import your printed documents into the application and even OCR them.  I don't use most of these features.  I don't believe there's a one-size fits-all information management tool, so I stick to dedicated applications for managing my e-mail, bibliographies, and chat logs.  The primary use I make of DEVONthink in a research context is as my ongoing research journal.
This is the first of a series of posts reflecting on using personal information management tools, like DEVONthink, for maintaining a research journal while doing my Ph.D.  Before I talk about DEVONthink, I think it will be helpful to go back in time and look at how my research journal began.  This will help explain why my research journal is structured the way that it is today as well as illuminate the path that led me to DEVONthink. I start off the series looking at NotePad Deluxe.
NotePad Deluxe
My research journal started life as a hardcover notebook in 1997, written by hand.  I migrated all the notes in 2002 to  Ibrium's NotePad Deluxe, a Macintosh notepad program.  NotePad Deluxe allowed you to create hierarchies of notes using topics, which looked like folders.  Some standard Macintosh file/folder-like options were also available, like labelling, so notes in the list could be coloured.  In addition, you could embed all kinds of objects in a note, like images or sounds.  I often used this capability to,  for example, embed LaTeX mathematical formulae typeset in specialist applications.  It also supported RTF export and import.  As a result, standard text formatting was also available.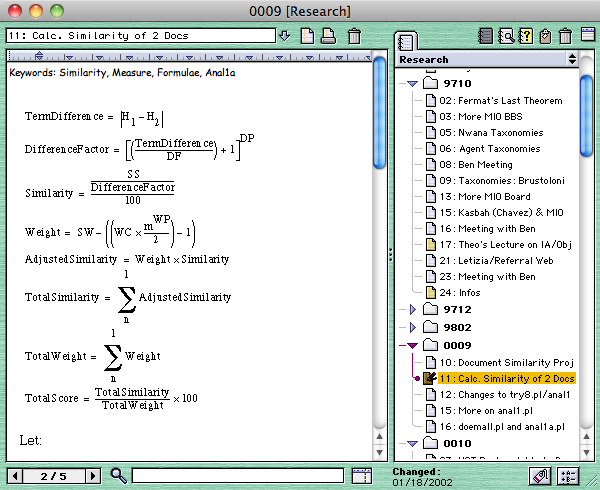 Image: My research journal in NotePad Deluxe.  On the right, you can see the hierarchies of topics and notes.  The icons at the top right let you switch between the topics hierarchy, the saved search section, a help manual, a global clipboard, and the trash.  At the bottom, there's a quick find search form.  The arrows to the left of the form allow you to go backwards/forwards amongst occurrences of your search term in the current note.
Basic writing and organizing content worked well initially.  As my research continued, I more frequently needed to find something I'd written before.  With NotePad Deluxe's find function, you could match words or parts of words or even case, and you could restrict it to a particular note or topic, if desired. It was easy to tab through the occurrences in a particular note and then automatically advance to the next note containing the search term.  It also had a batch search that saved search results and showed the results as a list of notes.
It wasn't enough.  The files/folders method of organization wasn't flexible enough to permit you to organize the material in different ways.  For example, continuing on from the chronological format mandated by a written notebook, I primarily organized my notes into topics representing the year and month.  The topic named "0009″ contained all the notes for September 2000.  Within the the topic, individual notes were named with a number representing the day of the month and then a title.  A note entitled "11: Calc. Similarity of 2 Docs" was written on the 11th of the month.  At the top of each entry, I included some keywords that could be used for later searches.  If I wanted the notes organized by keywords, I could fake it by manually creating "batch searches" for each keyword. The searches were saved between sessions, but they weren't automatically updated.  So if I added a new note using an existing keyword, the saved search results wouldn't reflect that.  I'd need to create the search over again.
I also wanted to be able to insert a link to previous work appearing in the notes database.  NotePad Deluxe allowed you to insert hyperlinks to websites but there was no mechanism to point to another note from within a note.  The closest you could get was making an alias to the note in your hierarchy, similar to file aliases in the operating system.  The linked note would appear italicized in the topic list  and was really just a pointer to the actual note.  This was the mechanism they used for their "batch search" saved searches, in fact.
While NotePad Deluxe may have been adequate initially for me and acceptable for the journalist Mikael Blomkvist in Stieg Larsson's Millennium Trilogy, it wasn't sufficient for my burgeoning journal of notes, snippets, and diagrams.  I wanted more flexibility in viewing/organizing my notes and a way of creating relationships between my notes.  Something a little more modern looking would have been nice too.  The interface was functional but not very aesthetically pleasing, although you could provide your own texture.  Something better was needed.
In the next posting, I'll look at Eastgate System's Tinderbox, a tool for notes, and my next attempt at creating an electronic research journal.