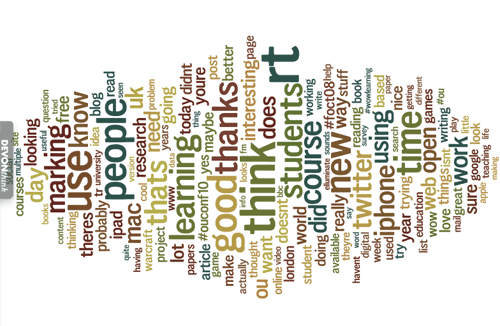 Credit: Wordle by Michelle A. Hoyle under an Attribution-ShareAlike 3.0 Generic license
Image: Michelle's tweet cloud. Most used words: thanks, RT, good, learning and marking.
Niall Sclater posted an article on his blog yesterday about personality and tweet clouds.  Inspired, I ran used Wordle of my top used words. TweeetStats, like many text analysis tools, uses a stop list, removing common words like "and", "the", "a", etc. TweetStats gave me the option of additionally removing the names of people to whom I was replying, so terms like "@psychemedia" and "@AJCann" have also been excluded. It could use some better stemming. "Courses" and "course" appear as separate entries, as do "game" and "games".