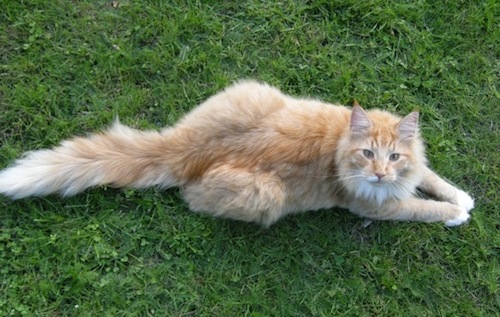 Credit: Photo by Michelle A. Hoyle under an Attribution-ShareAlike 3.0 Generic license
Image: Copernicus lying on a local nearby lawn.
Galileo and Copernicus, two Norwegian Forest Cats, came to live with us late last year as kittens.  They love the outdoors and will spend hours outside on their own, coming back periodically for attention and food.  This is unlike our older two cats, Kitty 1 and Kitty 2.  They'll go outside, but often only if we accompany them.  Otherwise, the older cats are happy to be hanging out in the house where we are.    Local residents of Lee Green (Lewisham) were startled today to see me out walking Galileo and Copernicus.  More accurately, I was walking, and they were bounding behind or in front of me.  They're incredibly well behaved.  Their penchant for following us is a bit of a problem when we're going shopping or taking the train.  We often find ourselves being tailed and need to scoop up a cat and return him to the house.  Still, I'd rather have it this way.  It's much more interesting.