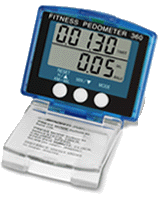 I had a great walk yesterday from Brighton's West Pier to the Hove Lagoon and back. Actually, it was longer than I expected. About halfway back, I stopped to check my pedometer to see how I was doing for time but the pedometer was gone. I had last consulted it at the Hove Lagoon, two kilometers back. I doubled back, but I couldn't find it anywhere.
I'm not surprised I lost my Sportline 360 pedometer, because I'd almost lost it several times earlier and I'd managed to knock it off my body onto the ground on several occasions too. I think the clip it's supplied with is a little lacking. Barring that, though, I rather liked the unit.
Pros:
It could remember distances over the last seven days.
You could use it for walking or jogging/running by programming in a stride length for each activity and then it would auto-detect what you were doing.
It had a rough calorie counter based on your distance travelled and your weight.
It also gave a rough estimate of number of steps per minute and timed your accumulated activity since the last reset of the counters.
Very small and looked rather like a pager so was rather discrete looking.
Cover protected the buttons neatly and kept moisture out of the buttons.
No need to manually start/stop activities. It auto-detected movement and was reasonably (but not completely quiet) quiet and accurate.
Really nice multi-line display.
Cons:
The supplied clip doesn't work well on thin fabric. It's just plastic and doesn't have jaws. It's more of a slide on and pray it stays mechanism.
There is no way to adjust the sensitivity. If it's not accurate where you placed it, you needed to try placing it somewhere else on your body — trial and error.
While it kept distance totals over 7 days, since I was counting steps more than distance, I would have liked to have seen the step total for each day. Granted, I could calculate it by taking the distance and dividing by my stride length, so this isn't a huge issue.
The pedometer can work in either miles/pounds or in kilometers/kgs, but you can't switch on the fly between them. So if you leave it in km for yourself and then want to tell someone else the distance travelled, there's no way to get that. Changing units requires resetting the entire unit. Not that big of a deal.
So now I'm wondering what I should do. I did rather like it. Should I replace it and look for some way to attach a better clip to it? Or should I look for a different kind of device? I wouldn't mind something like a SportBrain but I'd like one that connected to *my* computer rather than requiring a yearly (or quarterly/monthly) telephone subscription to a service based in the US.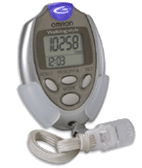 Another possibility is the Omron HJ-105. This sounds very similar to my former SportLine 360, but it has an actual spring clip with metal which might work better. This other Omron, the Omron HJ-112 (or see this description), sounds pretty good too. It apparently doesn't necessarily need to be attached to your pants but can go in a pocket or on a purse and it has a clip and a strap. I couldn't see any way for the two Omron units to use them in Metric though. I've dropped a note to their customer support team and their Canadian contact.
Any other suggestions, ideas or comments?